​Welcome to The Pride of Eastside!
"Every time we make it--We make it better!"
#neverstopimproving
Hello, everyone! We have special order TPOE Smile Masks available for you. (We are unable to sell the EHS Mask at this time - Check back later this week for a possible gray mask option.) All you have to do is click below and you will be taken directly to our Mask Order Page where you can order and pay for your mask(s). The masks are terrific and will come in handy.

Masks are $10 each, and if you order three or more, you can save $5.
Before you check out:
​Click APPLY COUPON CODE and enter
BUY3SAVE5
Here's the link:
MASK ORDERS
Please get all orders in by Monday, August 17th -- That's a hard deadline.
**We expect delivery around August 31st**
---
The Medical Form - CLICK HERE

It's time for BAND CAMP, and while socially distancing and taking all sorts of precautions, we look forward to welcoming you and music back to Eastside HS.

The calendars for the next few weeks (as they stand as of July 31st) can be found on the Weekly Band Agenda page. Please take note of the locations and time windows for the Check-In Screenings. That is hugely important!

​Please be safe and let's work together to make this work! Thank you!The July 9th e-mail - CLICK HERE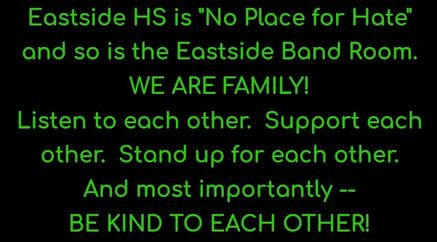 Please get those Deposits in and be sure you have seen the TPOE Band Awards Show.
​​We may be social distancing, and it is strange being away from school, but ...
MAY was TPOE Marching Band Registration Month!
But it's not too late ... JOIN TODAY

Welcome to the internet home of The Eastside Bands. Expect irregular updating of this page until the school system gives us guidelines for how the re-opening of the schools will look. Our plan is to move forward with Summer Band activities as planned, and we will adjust accordingly.

That said, the monthly calendar shows Tuesday evening Marching Band rehearsals in June (I expect to hear later in May whether those will happen), and then lots of things in July - Mornings the week of July 13th & Full BAND CAMP the Week of July 20th.

Do check out the Monthly Calendar Pages -
http://prideofeastside.org/monthly-calendar.html
For your convenience, click below to go to our online payments page.
Please join the respective Remind Group specific to your Grad. Year:

Send a text message with one of the following to the number: 81010

Class of 2020 -

@20tpoe

Rising Seniors -

@21tpoe

Rising Juniors -

@22tpoe

Rising Sophomores -

@23tpoe And ... Rising Freshmen - @24tpoe
​Click for the #jointheband video.

We are working to make online payments easy -- Check it out, & expect improvements soon.

---
Speaking of next year, we had a terrific group of students audition last month to be Drum Major and Band Captain of the 25th Edition of The Pride of Eastside -- We won't be able to announce all the other officers for a few more weeks, but please help us congratulate our
Band Captains and Drum Major:

Band Captains: Van Nipper & Mya Thomas
Drum Major: Justin Hollie

Go Band! and Go Eagles!
---
Click on the Schedules & then Monthly Calendar Links Above ...
E-mail Mr. F if you should find anything on this site that needs correcting/amending. Thank you.
Announcing the TPOE 2019-20 BLT
Drum Major - Duncan Jourdan
Band Camptain - Chadni Patel Asst Capt. - Van Nipper
Colorguard Captain - Emily Adams
CG Lieutenants - Abby Sugg & Emilee Walker
Drumline Captain - Zach Faith
DL Lieutenants - Lamia Bloodsaw, Casey Johnson, & Trey Kimble
Recruiting Team & Rookie Wranglers - Alayna Carter & Gabby Miller
Logistics Chief - Matthew Astin
Flute - Victoria Bailey
Clarinet - Abraham Valencia & Ludie Williams
Alto Sax - Jared Seals
Low WWs - Presley Haney
Trumpets - Hannah Brooker & McKenzie Guerrero
Mellophones - Sarah Schlueter
Trombones - Sydney Bryant
Baritones - Joseph "The National Champ" Bickel
Sousas - Leslee Hedrick

Congratulations to our #TPOE24 Colorguard!
Emily Adams, Karli Beck, Caroline Chiappetta, Mia Clark, Avery Freeman, Saniyya Fulton, Chyna Guinn, Hannaniah Hall, Jazmyn Hardeman, Taylor Horton, Emelia Jenkins, Brooke Johnson, Morgan Johnson, Mallory Jordan, Donnie Kirkpatrick, Marie McBride, Alex McCann, Cadence McGuire, Maria Palmer, Mackenzie Spicer, Mytie Still, Abby Sugg, Lillian Tate, Emilee Walker, Keturah Washington
Emily Wright


---
---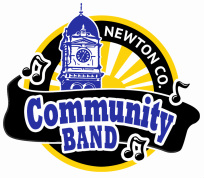 ATTENTION All Band Alumni!
Please consider playing with the Newton County Community Band this fall and in the future... ALL TPOE Alumni & Parents are welcome as are alumni from other schools and organizations!Practice is on Mondays, 7:00 - 9:00 pm at the EHS Band Room!
---
---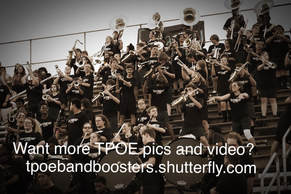 Please remember, you can always share YOUR band photos on the TPOE Band Boosters' Shutterfly account. We love all TPOE band pics! Go to tpoebandboosters.shutterfly.com and post to the appropriate album!
---